Gender Issues

[Excerpt below is from Chapter 7 of War and Gender]

For information about this book, and a discussion forum, click below:

---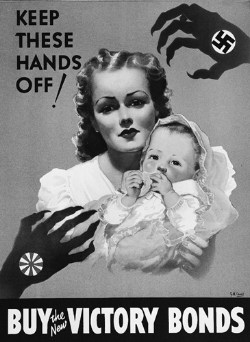 Bond poster, Canada, WWII
War as a cause of gender
The persistent strength of "reverse causality" from war to gender pervades this study. The war system influences the socialization of children into all their gender roles – a feedback loop that strengthens and stabilizes gendered war roles. War's influence shadows all of our lives. Betty Reardon writes: "Once the actuality or possibility of war becomes the context within which we live, men and women are forced into set roles." Gender serves as a medium or vector, as it were, for war's presence in our most intimate social settings.6
Unfortunately, the spot for war on the bookstore's gender shelf is nearly (though not quite) as empty as the spot for gender on the war shelf. For example, British feminist scholar Lynne Segal's book on men and masculinity bypasses war and the military, and treats "male violence" as meaning violence against women, keeping inter-male violence out of view. Mary Roth Walsh's recent edited volume, covering the spectrum of gender topics, also omits war. So do many other works on gender.7
Denial may best explain these omissions. Social conventions keep war silent in our everyday lives because it represents trauma. Psychologist Judith Herman emphasizes the gulf between war and daily life: "The war story is closely kept among men of a particular era, disconnected from the broader society that includes two sexes and many generations. Thus the fixation on the trauma – the sense of a moment frozen in time – may be perpetuated by social customs that foster the segregation of warriors from the rest of society." Historian John Keegan calls war "a world apart" from politics and diplomacy, "a very ancient world, which exists in parallel with the everyday world but does not belong to it." (Jean Elshtain considers this separation a European bourgeois phenomenon, however.)8
The single main lesson of this book for those interested in gender is to pay attention to war. To end denial and face war's influence on gender is, I believe, an important step in changing both sexism and the war system.
---
6 Reardon 1985, 11; Cock 1991, x; Keen 1991, 37; Goldstein 1995.
8 Herman 1992, story 67; Keegan 1993, xvi; Elshtain 1987, 181; Griffin 1992, 16, 32, 38.
---


To book website: